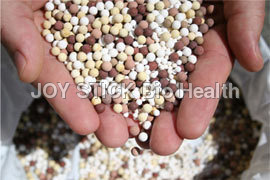 BIO CERAMIC TECHNOLOGY
Product Code : 75
Product Description
Bio-ceramic ball Technology
Have you heard about Bio ceramics?
The word 'BIO ceramic' means a hard material that is created when clay is heated to very high temperatures. The Ceramic balls are made from various kinds of natural mineral matter found in Korea that was specially treated to radiate far-infrared rays and negative ions. It is baked and cooled under high temperatures several times; an action which results in high extrusion strength and has no percolation materials, no deformation and yields semi-permanent use. (You will be satisfied with Bio Ceramic Ball as it is baked for 45 hours at 1,500°C)
Made by forming Wongiseok (vitality stone) powder made through a refining process including pulverisation after mixing and composing 10 or more natural pure minerals into a "ball", the Bio-ceramic ball is an advanced material shaped to a ball with high generation of far infra-red ray(F.I.R) radiation which is fundamental energy for activation of living bodies, rotational electromagnetic waves and Gi(vitality). As the Bio-ceramic ball has various uses, it is shaped as customised balls by giving a change to the firing temperature according to function and use.
Functional use of Bio-ceramic ball
Water treatment(water filtration, purification) functions
1) Elution of natural minerals: elution of a very small amount of elements including calcium(Ca) and magnesium(Mg) (maintaining the balance of minerals)
2) Removal of residual chlorine & heavy metals: removing function of chlorine ingredients, heavy metals and impurities remaining in water.
3) Prevention of oxidisation and increase of reducing power: possible to store clean and fresh water for a long time by restraining oxidising power of water and increasing reducing power.
4) Antimicrobial and deodorising effect: the acenic mineral material prevents the generation of microbes including colon bacilli and staphylococcus and moulds and has an effect to remove smells by the deodorising function.
5) Dense water by wavelength and wave motion: heightens the absorptive power in the body as water molecules form small clusters(molecule group), making the molecule structure dense.