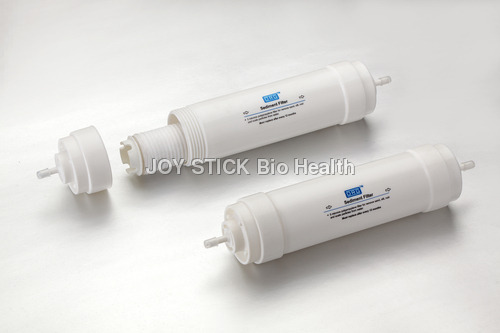 ORG Sediment Filter
Product Code : REFILLABLE
Product Description
For many years, we are instrumental in manufacturing, exporting and supplying a wide assortment of ORG Sediment Filter. This filter is precisely manufactured by making use of optimal quality raw material under the proper supervision our technical experts with the help of modern techniques. Offered filter is used in RO filters for removing impurities from water and make it 100% safe for drinking purposes. Besides, this ORG Sediment Filter is available in various specifications as per the needs of the clients.
Features:
No chemical to leach-out with new pp sheet rolled filtration forming process

No media migration because the sheet consists of continuous filaments

True grade density new rolling technology gives denser winding in inner layers & corser winding in outer layers

High dirt holding capacity & longer life as particles are trapped through the entire cross section of the filters

Better performance multi-lobal cross section filaments with random 3-dimensional media structure captures more particles compared to conventional filters

High bulk media having improved void to solid ratio gives higher flow rates with low pressure drop

100% polypropylene wide chemical compatibility & excellent micro-organism resistance

High structural stability, i.e. No shifting of media

Food grade compliance

Standard sheet rolled cartridge filters are made from 100% homo polymer polypropylene sheet that meets requirements for food, beverages & drinking water , etc.

Chemical compatibility

Please consult chemical resistance guide for chemical compatibility with polypropylene
Applications:
Ideally suitable for applications such as : ro pre-filtration, electronics manufacture, deep well injection & gas purification, ed automotive paint, electroplating, pharmaceuticals & healthcare, chemical industry, metal working, industrial water process, drinking water, food & beverage, residential water & more.
1st stage in ro

Openable housing to reduce maintenance cost.

Micron rating perfect 5 micron

Life of filter 10000-10500 ltr. (12-13 months)