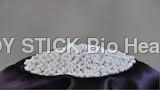 Synthetic Zeolite Ceramic Balls
Product Code : 88
Product Description
Synthetic Zeolite Ceramic Balls
Features
This water softening ball has a high ion exchange function and is stable with a long period of sustain ability owing to the excellent and steady Function to change hard water into soft water.
Increase high PH(10-11.5) and high absorbent.
Occur to oxygen, absorb nitrogen(use filters of air conditioner, air purifier, oxygen generator, refrigerator)
Excellent deodorising performance, excellent calcium ion exchange capacity and rate(removing metal ion by ion exchange).